About this Item
Manufactured with superior features
Marine grade nylon hardware
Made in the USA
Bimini Boatops – Ultima Fabric
The Bimini Boatops – Ultima Fabric manufactured with superior features. The units sold with the frame, fabric tops, and storage boots packaged separately. Frames available in bright dip anodized aluminum or stainless steel. Stainless steel frames come with stainless steel fittings, bright dip anodized aluminum frames come with marine-grade nylon hardware.
Selecting the Right Bimini Top & Frame
Choosing the right fender size and quantity of boat fenders is critical to protecting your boat. The Taylor Made boat size chart is the minimum recommendation and it is advised to consult with your marina and docking neighbors to be sure you have adequate protection for prevailing conditions.
Step 1 – Select the Frame
Determine the length: 4′, 6′, or 8′.
Determine the height: 36″ 42″, or 54″. This is the maximum standing height under the frame; measured from the mounting location points.
Determine the width: 60″ to 103″.

Measure from the mounting point on one side of the boat to the same location on the opposite side of the boat (this is not the same as "beam width" or boat width).
Widths of the Bimini BoaTops are specified in increments of 6″ (choose the width that best matches your mounting point measurement).
Frames designed as "knock-down" frames, meaning they snap together via double-sided snap buttons.
3-Bow or 4-Bow: This refers to the number of bows that make up the frame. 3-bow for the 4 ft. and 6 ft. length tops, and 4-bow for 8 ft. long tops.
All sizes ship unassembled, via UPS or FedEx.
Sold separately.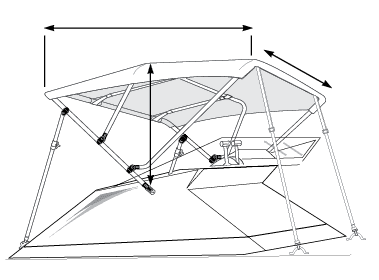 Step 2 – Select the Fabric
From the economical Hot Shot™ pigment-dyed fabric to the premier durability and style of Sunbrella®, the choice is yours when it comes to your bimini. All of our fabric choices treated for water repellency and mildew resistance to withstand the harsh marine environment.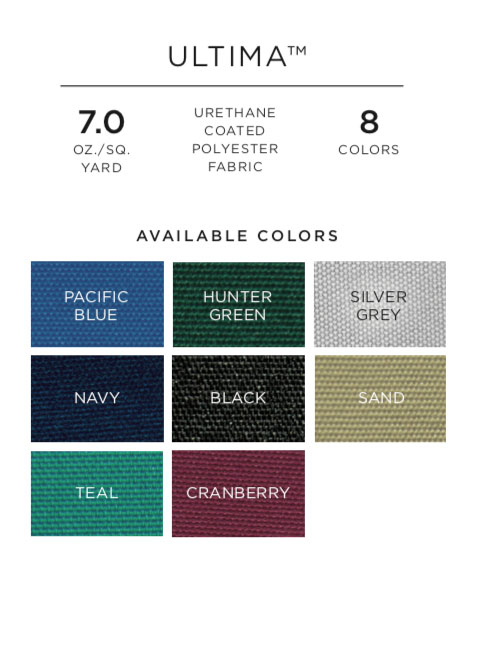 Step 3 – Select the Storage Boot
Zippered storage boots provide a convenient way to keep your top clean and neat while being stored. Boot sizes determined by frame width. Boots are available in the same fabrics as the tops above. All boots feature full-length separating zippers for easy on/off. Sold separately.